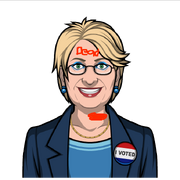 This is the first fanmade case of
Shincashin123
.
Case Background
The victim was the new mayor named Martha Price. She was found dead with a fatal dog bite on the neck.
The killer was Sophia Dimacali. Sophia was jealous of Martha Price because she had more votes than her. To eliminate her competetor, she brought Tristan's dog which bit Martha Price at her neck.
On the court, Sophia Dimacali just screamed. Sophia Dimacali stole a police gun from Jones and committed suicide.
Victim
Martha Price (found dog's bite on her neck)
Murder Weapon
Killer
Suspects
Tristan Tan (Sophia's boyfriend, uses hairspray)
Sophia Dimacali (Martha Price's friend and Tristan Tan's boyfriend, uses hairspray, has pimples, lost one tooth, has green eyes, has a dog)
Rodel Kotik (Announcer, has pimples, lost one tooth, has green eyes)
Howard Johnson (Former Mayor, lost one tooth)
Killer's Profiles
The killer uses hairspray
The killer lost one tooth
The killer has pimples
The killer has green eyes
The killer has a dog
Crime Scene
Steps
Chapter 1
Investigate Courthouse (Clues: Victim's Body, Tooth)
Analyze Victim's Body (00:05:00)
Examine Tooth (00:00:50, KP: The killer uses hairspray, lost one tooth)
Ask Rodel Kotik about the tooth
Ask Sophia Dimacali about tooth
Ask Sophia Dimacali about the murder
Go to Chapter 2 (1 Star)
Chapter 2
Investigate Car (Clues: Hairspray, Body, Dog)
Ask Rodel Kotik about Martha's death
Examine Hairspray (00:00:50, KP: The killer has pimples and green eyes)
Ask Tristan Tan about his stolen dog.
Ask Mayor Johnson about Martha Price.
Arrest Killer 
Go to Additional Investigation (1 Star)
Additional Investigation
Give the dog back to Tristan Tan. (Rewards: 5,000 Coins)
Investigate Car (Clues: Silver Watch)
Examine Silver Watch (Result: Mayor Johnson's fingerprints)
Give the silver watch back to Mayor Johnson. (Rewards: Burger)
Investigate Courthouse (Clues: Telephone)
Examine Telephone (Result: Rodel Kotik's picture)
Ask Rodel Kotik about the telephone.
Give the telephone back to Rodel Kotik. (Rewards: Rainbow Mohawk Hair)
Justin David want to tell you something.
Investigate Next Case. (2 Stars)