Welcome to the Criminal Case Fanon Wiki,
where you can take your creativity to the next level.
3,447 articles combined by 57,543 edits and 3,603 images since creation on the 13th of January 2014.
This wiki may contain strong language and graphic images or contents. Browse at your own risk.
About Recent Activity Categories Forum Canon Wiki Policy Administration
About Criminal Case
Criminal Case (commonly abbreviated as "CC") is a detective-themed hidden object game released on November 15, 2012 for Facebook. An iOS version was released worldwide on August 28, 2014, followed by an Android version on April 15, 2015. Developed and published by French indie studio Pretty Simple, Criminal Case has over ten million average monthly users. On December 9, 2013, Criminal Case was crowned the Facebook Game of the Year 2013.
Read more…
Featured Case - The Demon Within
"

15 years ago, Morrigan's brutal past from

last three days

will unleash her demonic persona in a vicious way she could even do. With no one powerful but

Shiro Maizono

, he is only able to lock her progress and her persona for good as per

someone

's request.

—Case Teaser

"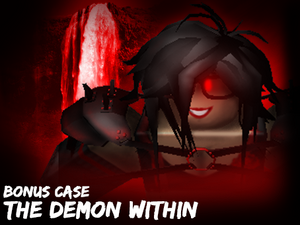 As Morrigan Witherwood finally unleashed her demonic side, thanks to her sudden unstability, and Noire Astaroth's help, Morrigan was then arrested on the Witherwood Mansion brawl. She is brought to the Chief's Office (since courts do not exist yet), along with Chief Michael Brady, and Officer Dmac Ulangan and Lionel Frenchlight standby watching over Martha.
Unexpectedly, the blackout happened and someone was heard being stabbed at the back, thus someone let Morrigan escape after that. As the blackout is over, it is seen that Morrigan herself was escaped, thanks to Ursula Kristen's cowardice. It also turned out that the Chief was killed. Ursula admitted that she opened the gate because she was scared of Morrigan, leading her to escape with fear to avoid any punishment from her. Ursula was then fired by the Cortonith Island Police Department (by the newly appointed Chief, Dmac) of her cowardly actions.
As Morrigan had time to escape, more and more reports showing that Morrigan killed some of the civilians, typically done out of hatred. Will the criminal will be apprehended for good? Or will Morrigan Witherwood will slaughter her way out of her unstable persona? Read more...
| | | |
| --- | --- | --- |
| " | I believe Morrigan will change on my hands for good. Now would you mind keeping one part of that pendant for me? Just find the other ones later on. | " |
| | —Noire Astaroth, Broken Memories | |
Help
Not sure where to start?
---
News
Create blog post
Blogs
[EXCLUSIVE] Introducing Alice Young: Chief of Police in the city of Aelhaven, where adventure awaits!

Read more >

On the 21st May 2017, I am going on holiday for three weeks so I will not be able to update Starlight Shores, Aurelia and my cases in The Lone Enemy. I will occasionally be active during them three weeks but not for long. Afterwards, I will continue The Results Are In and …

Read more >

Due to the whole realization during my worktime in ROBLOX as some contributor to one of these games, I realized that Morrigan seems lame as she looks. Morrigan's change will give the storyline of the Cortonith Island a huge impact, even since the Brockston Slumbs is a trage…

Read more >
See more >
Ad blocker interference detected!
Wikia is a free-to-use site that makes money from advertising. We have a modified experience for viewers using ad blockers

Wikia is not accessible if you've made further modifications. Remove the custom ad blocker rule(s) and the page will load as expected.