Ad blocker interference detected!
Wikia is a free-to-use site that makes money from advertising. We have a modified experience for viewers using ad blockers

Wikia is not accessible if you've made further modifications. Remove the custom ad blocker rule(s) and the page will load as expected.
Welcome to the Criminal Case Fanon Wiki,
where you can take your creativity to the next level.
2,786 articles combined by 48,707 edits and 2,959 images since creation on the 13th of January 2014.
This wiki may contain strong language and graphic images or contents. Browse at your own risk.
About Recent Activity Categories Forum Canon Wiki Policy Administration
About Criminal Case
Criminal Case (commonly abbreviated as "CC") is a detective-themed hidden object game released on November 15, 2012 for Facebook. An iOS version was released worldwide on August 28, 2014, followed by an Android version on April 15, 2015. Developed and published by French indie studio Pretty Simple, Criminal Case has over ten million average monthly users. On December 9, 2013, Criminal Case was crowned the Facebook Game of the Year 2013.

Featured Case
"

To discover Dr. Cyanide and the truth behind them, solve the final case in the outskirts of Townville... while realizing our evil "friend" isn't the only one ready to strike...

—Case Teaser

"
After detaining Daniel Mossle under the suspicion of being Dr. Cyanide, the rest of the team turned their backs on Evan Day who had arrested him, being angry and shocked for something so unpredictable. On the day of the race, they were waiting to see whether Dr. Cyanide would show up and drive or not. If it didn't happen, then it would mean that Daniel had really been Dr. Cyanide all along; but if they really did appear at the race, Evan would have been wrong and the team would probably not forgive him. The race turned out to take place on the same day Linda Farren would leave the psychiatric institution to go to jail (exactly one year after her trial). Unfortunately, she escaped from the police and the team went to look for her around the Rally Race track only to find her dead after being run over by Calvin Hayre's rally car.
Due to Evan's mental breakdowns, the team had to leave him out of the investigation and the player changed partners. However, things got nothing but worse as Daniel escaped from his cell, but he was luckily found again, crying at the murder scene saying that he had always been there for everyone in the team and the first thing they did for them was arrest him. He said that he did not mind being in his cell, but since his father and his friends were all he had, he begged for them not to ignore him or treat him like a stranger. Read more...
Help
Not sure where to start?
---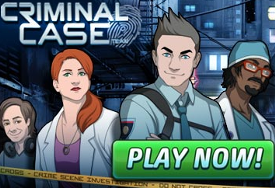 News
Create blog post
Blogs
Geheimnisburg is a United States city that was founded by German Palatines in 1730. The Geheimnisburg Police Department just solved their first case (A Lovely Way to Die), the murder of research scientist Gary McPherson.

Meet the department:

Roger Hamilton, Chief of Police

Lar…

Read more >

THIS JUST IN: It's voting time! Cast in your vote and leave a comment saying who you voted for and why! Interact with other users to share your opinions on the current topic!

Read more >

[EXCLUSIVE] Introducing Leonid "Leo" Petrov: Detective in the city of Emerald Heights, where adventure awaits!

Read more >
See more >