Welcome to the Criminal Case Fanon Wiki,
where you can take your creativity to the next level.
2,606 articles combined by 46,099 edits and 2,816 images since creation on the 13th of January 2014.
This wiki may contain strong language and graphic images or contents. Browse at your own risk.
About Recent Activity Categories Forum Canon Wiki Policy Administration
About Criminal Case
Criminal Case (commonly abbreviated as "CC") is a detective-themed hidden object game released on November 15, 2012 for Facebook. An iOS version was released worldwide on August 28, 2014, followed by an Android version on April 15, 2015. Developed and published by French indie studio Pretty Simple, Criminal Case has over ten million average monthly users. On December 9, 2013, Criminal Case was crowned the Facebook Game of the Year 2013.

Featured Case
"

Rebel found shot in the dangerous province of Balochistan! Are you truly untrustworthy or can you stop further destruction?

—Case Teaser

"
The player and the World Police Elite arrived at the Balochistan Province of Pakistan. The duo of Milo Grant and the player investigated the evacuated city of Chagai, where a rebel group had attacked. The team went in a rebel hideout where a terrorist was found tied to a chair.
The victim was Shahid Jarwar, a rebel working for the Kitsune. Soon, it was discovered that the rebel tribe working for the Kitsune was a local bugti tribe. The team interrogated Fahmida Sabzvari, a woman who was running away from another tribe who marked her as a traitor. She claimed that Shahid was helping her on running away. The team also had a dangerous encounter with a "suicidal bomb-man," Ghulam Kethwall. Kethwall claimed that he was ordered by a "master" to sacrifice himself (via explosion) for a mission, but Ghulam said "it wasn't the time to explode." The team also bumped with Marika, the student who made the trust test for Jassad. Marika was desperate, telling that she came to Pakistan for the test's alleged redevelopment. However, the Balochi police were corrupt due to of the rebel confrontation.
Before finishing the first chapter, the team discovered that Shahid was working for the Kitsune so he could destroy the Oriental Badge from the inside, which could explain why he was found executed like a traitor, giving the implication that he was discovered. Not too long after that, the team received a call from the Kitsune, saying that they armed a school with land mines. Read more...
Help
Not sure where to start?
---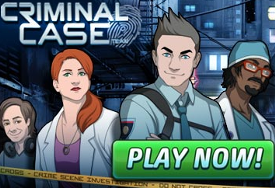 News
Create blog post
Blogs
This will be regularly updated but previous cases' teasers will stay.

An old lady found encased in ice at Lake Baikal. Can you catch the frozen-hearted killer before more suffer the fate?

Note: There is a sneaky edition exclusive to this series and this is the smallest due to…

Read more >

Diver found eaten by shark. Catch this horrible killer before tehy kill themself.




Read more >

Hi! I am starting a collab named Osijek. If you wanna be apart just comment ME.

Read more >
See more >