Welcome to the Criminal Case Official Fanon Wiki
...where you can take your creativity to the next level.
6,554 articles combined by 97,073 edits and 6,874 images since creation on the 13th of January 2014.
This wiki may contain strong language and graphic images or content. Browse at your own risk.
About Recent Activity Categories Forum Canon Wiki Theory Wiki Policy Administration
About Criminal Case
Criminal Case (commonly abbreviated as "CC") is a detective-themed hidden object game released on November 15, 2012 for Facebook. An iOS version was released worldwide on August 28, 2014, followed by an Android version on April 15, 2015. Developed and published by French indie studio Pretty Simple, Criminal Case has over ten million average monthly users. On December 9, 2013, Criminal Case was crowned the Facebook Game of the Year 2013.
Read more…
Case of the Month: November 2018 - "The Light Versus the Darkness"
"

The Darkness arise from the shadows as the skeleton of the latest victim found now lies inside the villainous lair. Will you discover the one who killed him and unmask the Dark Lord in time?

—Case Teaser

"

Edward and the player arrived at the Hill where The Darkness's lair was rumoured to be. They looked for the door and found It, thanks to Holly hacking the door in the last case, They got interrupted by Benedict Egg, Who they questioned about being in the lair. He gave them a key card and they went to the lair's main hall, Where they found the skeleton of Joshua's kidnapper, Patrick Peterson, They then found the leads they needed to question Ben-Ji Camper, who they last saw in The Ripples of Frozen Times. Elsa Cupboard, Who they saw the night before, and they found Holly Krison's control panel in the victim's bag. They had to make her a suspect as well. Later on, Edward and the player were talking when Taylor came in and reported that Lewis Looper Rochester was found crushed under a boulder and that it was no accident!
The team went and found Lewis's body. They also found leads that lead to Watson Wikoson and Time Earth. They questioned them both and then heard that Joshua was found in the human testing room. They went to get him and questioned him to see if he was alright. They then went back to the office and recapped on the case. They then got the news that someone had found a hidden platform on the side of the mountain. read more...
Help
Not sure where to start?
---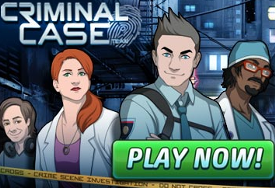 News
Create blog post
Blogs
JUST IN: Coming soon in Criminal Case: The Mystery Continues…

At the burned Capecchi house, a declaration of war is committed! It's up to you to catch this killer and stop a gang war as the serial killer steps into the light!




If you have any other predictions, feel free to com…

Read more >
See more >