Welcome to the Criminal Case Official Fanon Wiki
...where you can take your creativity to the next level.
6,725 articles combined by 101,757 edits and 7,139 images since creation on the 13th of January 2014.
This wiki may contain strong language and graphic images or content. Browse at your own risk.
About Recent Activity Categories Forum Canon Wiki Theory Wiki Policy Administration
About Criminal Case
Criminal Case (commonly abbreviated as "CC") is a detective-themed hidden object game released on November 15, 2012 for Facebook. An iOS version was released worldwide on August 28, 2014, followed by an Android version on April 15, 2015. Developed and published by French indie studio Pretty Simple, Criminal Case has over ten million average monthly users. On December 9, 2013, Criminal Case was crowned the Facebook Game of the Year 2013.
Read more…
Case of the Month: December 2018 - "Heads Up"
"

The Collector makes their rise from the shadows while the Pheadmouth Justice Unit finds an abandoned house that reveals the torn body of a real estate owner, without his head! Will you get ahead of the serial killer and arrest them on your first big case?

—Case Teaser

"

After Leo informed the team that Aiden had gone missing. Chief Vinh had directed Christian to find him as soon as possible, while the player and Rosamund went to the abandoned house which Amru had mentioned in his message. They then found out that place was actually "The Collector"'s hideout. However, after getting to there, the team found Amru's body, cut into 10 different pieces and left messily on the floor, however, his head was missing. They then sent his headless body to Camilla as Aiden was unavailable.
However, right after Amru's body was found by the team, Aiden came into the house, being shocked at the victim's body and the team's presence. They then flagged Aiden as a suspect and let Christian, along with the player, interrogated him. After being interrogated, Aiden told that he had found out "The Collector"'s hideout himself and decided to investigate it by himself as he did not want to let the rest of the team in trouble. Besides Aiden, other suspects from previous cases: Faith Patrick, Seamus O'Neill, Tanner O'Brien and Jenna Morales, were also flagged as suspects.
Mid-investigation, Trent told the team that he had found the place where the body parts of the previous victims were hidden. read more...
Help
Not sure where to start?
---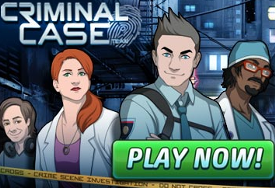 News
Create blog post
Blogs
[EXCLUSIVE] Introducing Branko Andrich: A Judge for European Major Crimes in your upcoming adventure of Save The Europe!







'Age: 48
Origin: Belgrade, Serbia
Past Profession:' Law Student
Traits: Sarcastic

Read more >
See more >