iuAdam Stewart is the Chief of the Veldin City Police Department. He was also a suspect in the murder of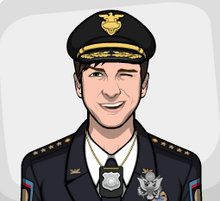 Rinah Cooper in Welcome to Devil City!!! (Case #1).
Profile:
Adam is a man of 45 years of age who has brown hair parted to the right side. He had green eyes.He wears a white shirt with a black tie underneath a police chief suit. The suit show five stars on each shoulder, and consisted of VCPD's logo on the sleeves. Adam was 6 feet and 3 inch tall, he weighed 181 lbs, and his blood type was O+. He was the father of Freddy steward and Ramona steward
| | |
| --- | --- |
| Height | 6'3" |
| Age | 45 |
| Weight | 181 lbs |
| Eyes | green |
| Blood | O+ |
Case Appearances:
Ad blocker interference detected!
Wikia is a free-to-use site that makes money from advertising. We have a modified experience for viewers using ad blockers

Wikia is not accessible if you've made further modifications. Remove the custom ad blocker rule(s) and the page will load as expected.